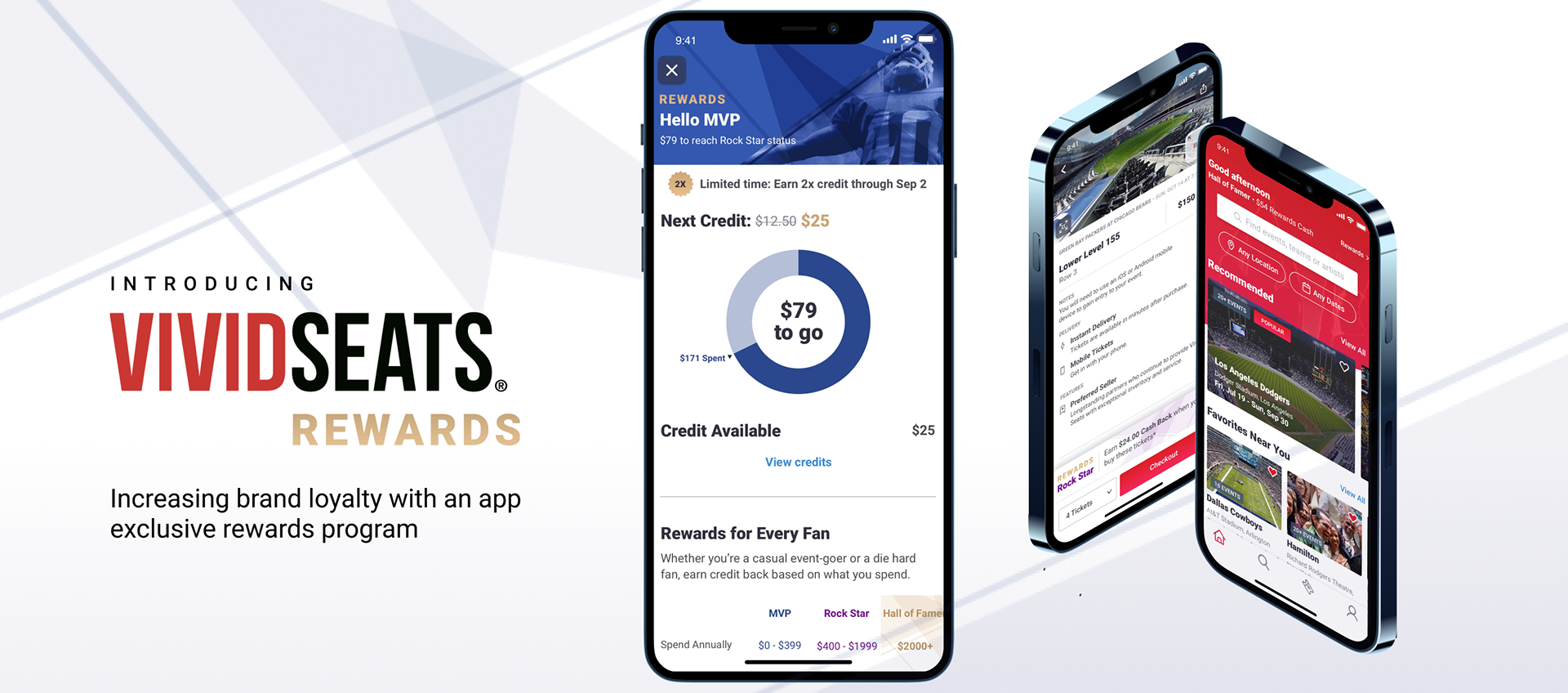 Rewards Loyalty Program
In an effort to increase brand loyalty, Vivid Seats launched an app exclusive rewards program giving customers credit back for every purchase made. I was the lead product designer on this project and handled the process end-to-end from research, journey-mapping, and wireframes to visual concepting for the program and final UI designs through the customer flow and micro-animations for mobile and tablet.

Vivid Seats Rewards was designed as a three-tier program offering customers increasing percentages of Cash Back with increased yearly spend. The main placements gave customers an overview of their tier, rewards progress, next reward amount and current balance.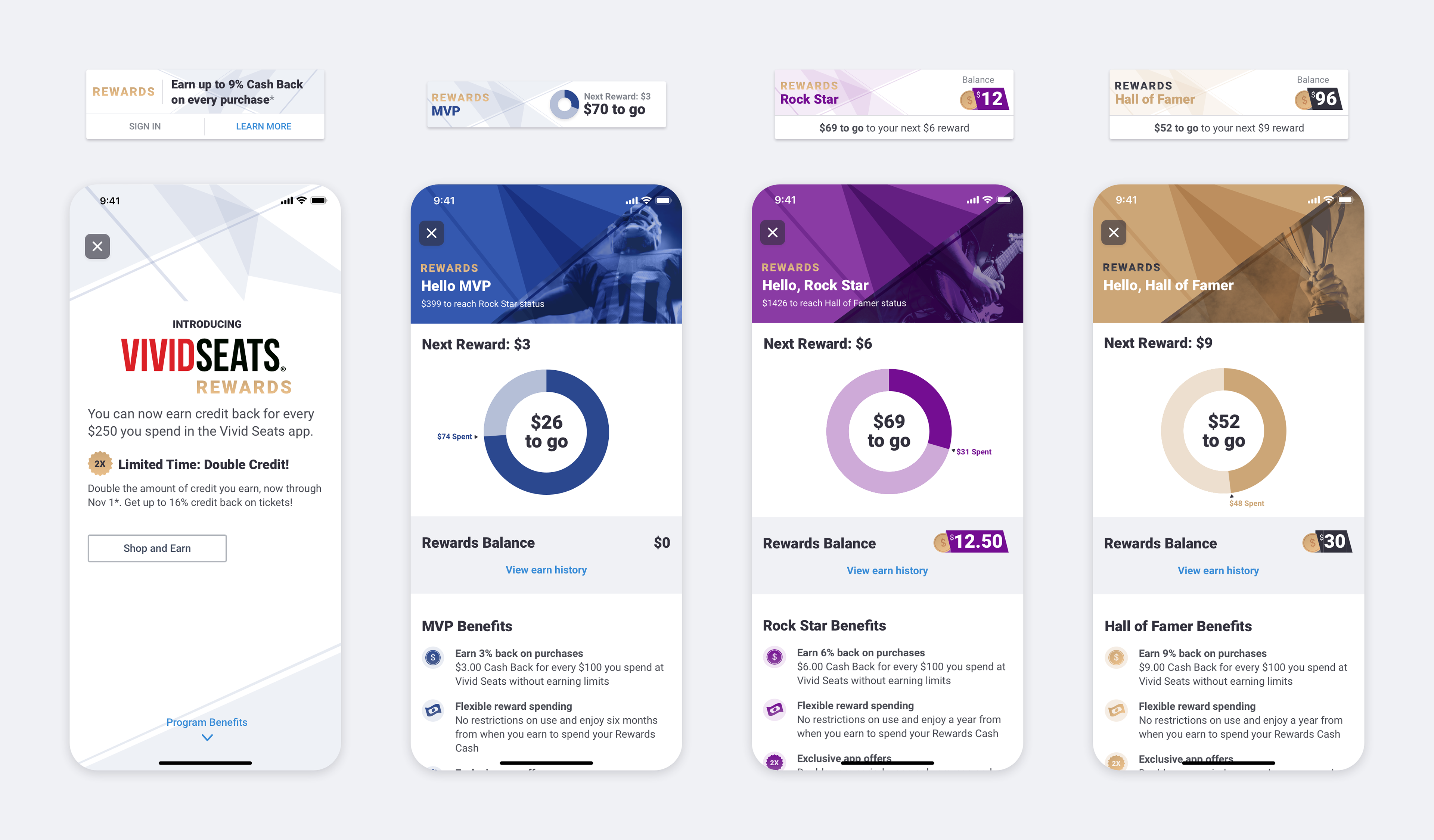 We added strategic placements throughout the purchase funnel to push customers to make purchases in order to get cash back or to spend rewards they already have.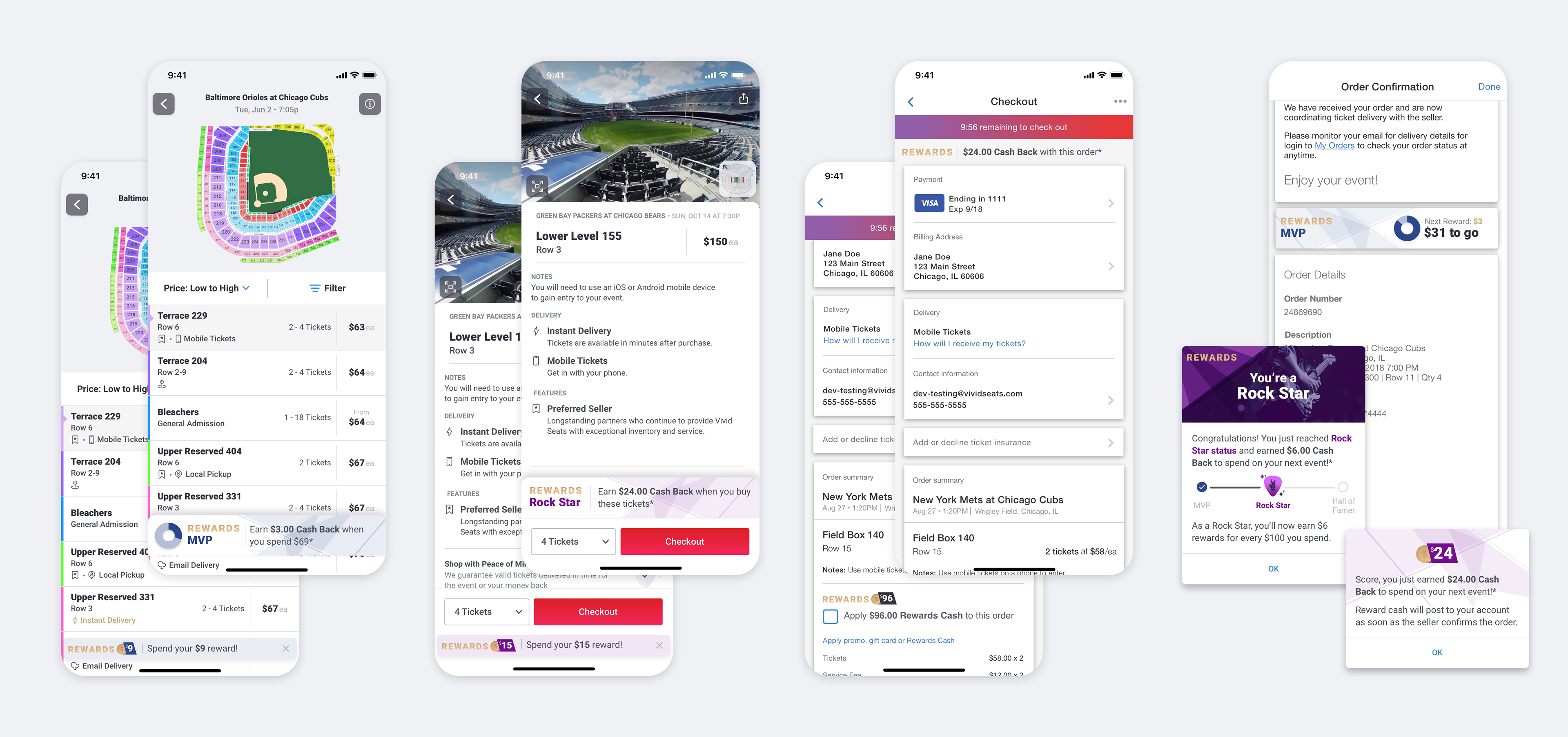 Rewards was designed with a multiplier capability either as a personalized promo or app-wide promotion in which the customers rewards earned on a purchase are multiplied.

Although not in its initial release, we eventually added the ability to earn rewards on web purchases. This helped to keep users engaged and moving forward on the conversion path and then we were able to use spending credits in the app as a driver to convert web users into app users. Web placements were designed to inform those users of our program and help push them to the app once they had credits to spend.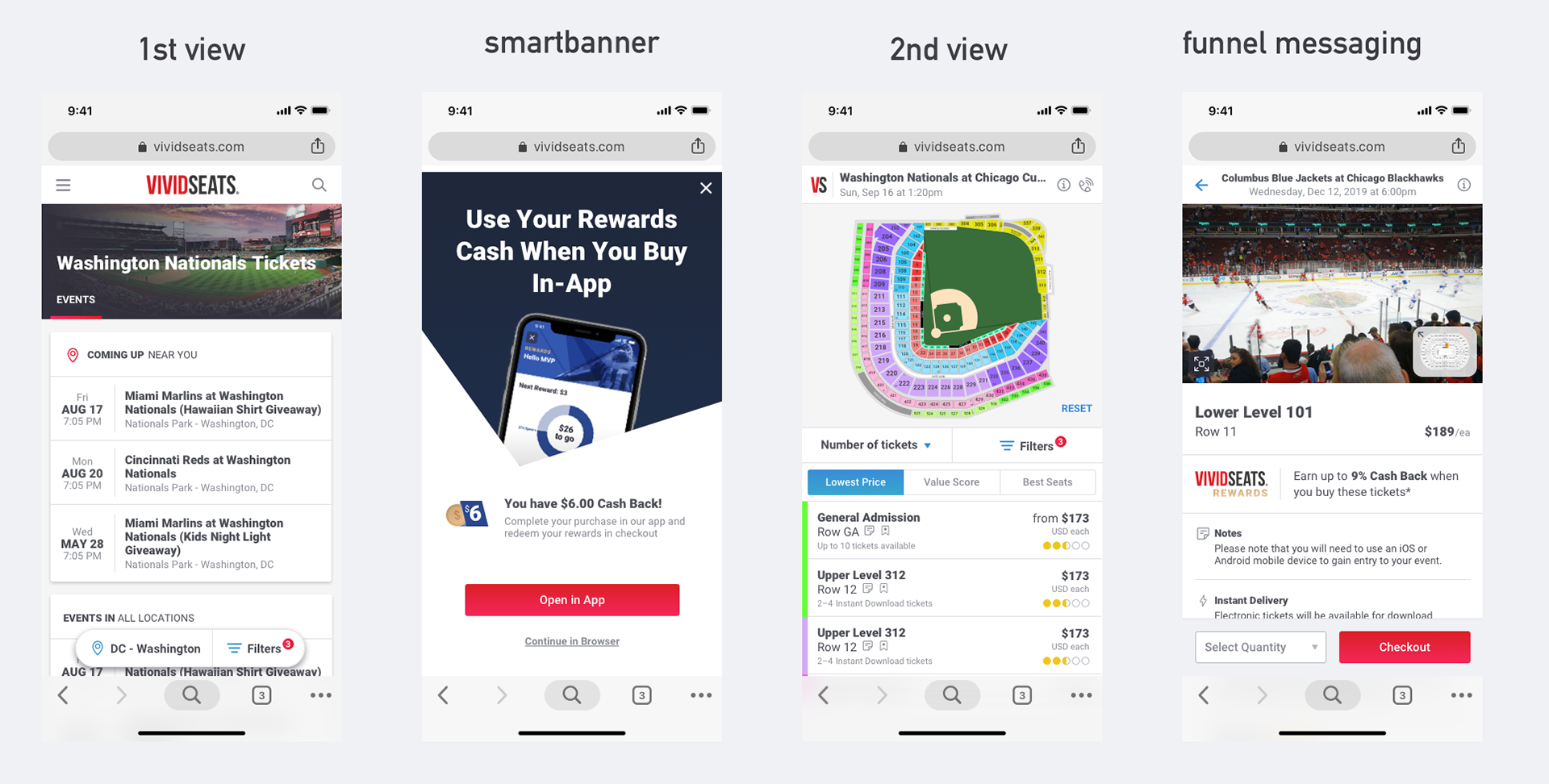 Research
Since we are the first in our industry to launch a program like this, I looked through
 rewards
 programs in other industries for inspiration and program standards. This included ride share apps, movie theaters, airlines, apparel retail stores and coffee shops. This helped me get an idea for program standards what type of information is typically conveyed and those placements.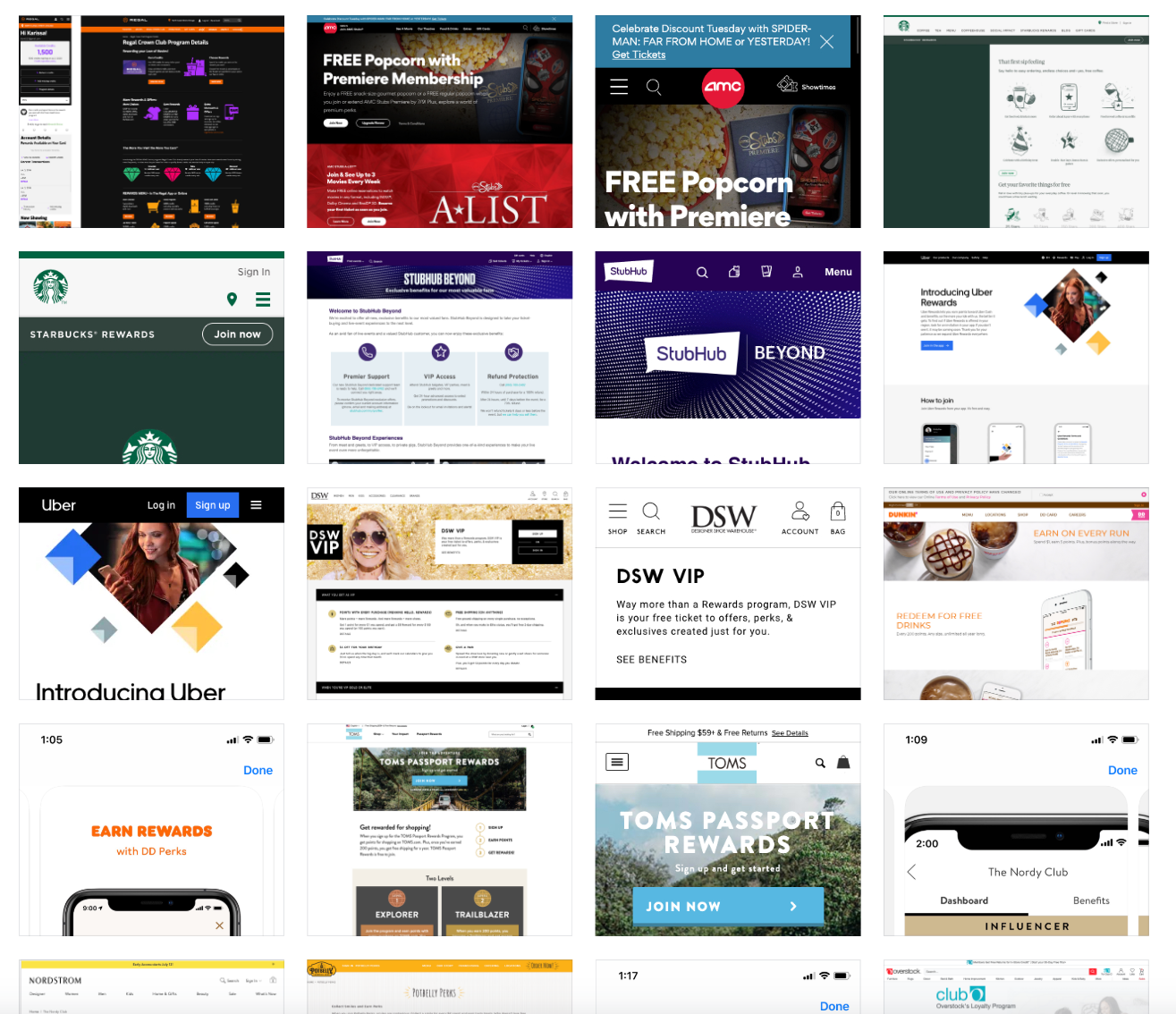 In order to design an empathetic experience, I also defined some behavioral archetypes. This helps me better understand our future user group and their goals, wants and needs.
Customer Behaviors:
-App users / tech savvy
-Looking for lowest price to next live event
-Familiar with other company's rewards programs
Customer Goals:
-Get discounts on ticket purchases
-Know about the program before buying
-Be able to track progress from an easy to find spot
-Know when rewards are available to use
-Be able to see history of reward earning and burning
Types of Customers
-Users with legacy app version
-Users with first time download, organic or coming from web
-Returning users not signed in
-Returning users signed in, no purchases
-Returning users signed in with rewards progress
-Returning users signed in with credits available
Increase repeat users
Establish brand loyalty
Drive traffic to the app
Ideation
I mapped out all the touchpoints for this program within the app for all the user types defined above. These were done in a wireframe/lo-fidelity state to determine flow, content and which screens we needed designed.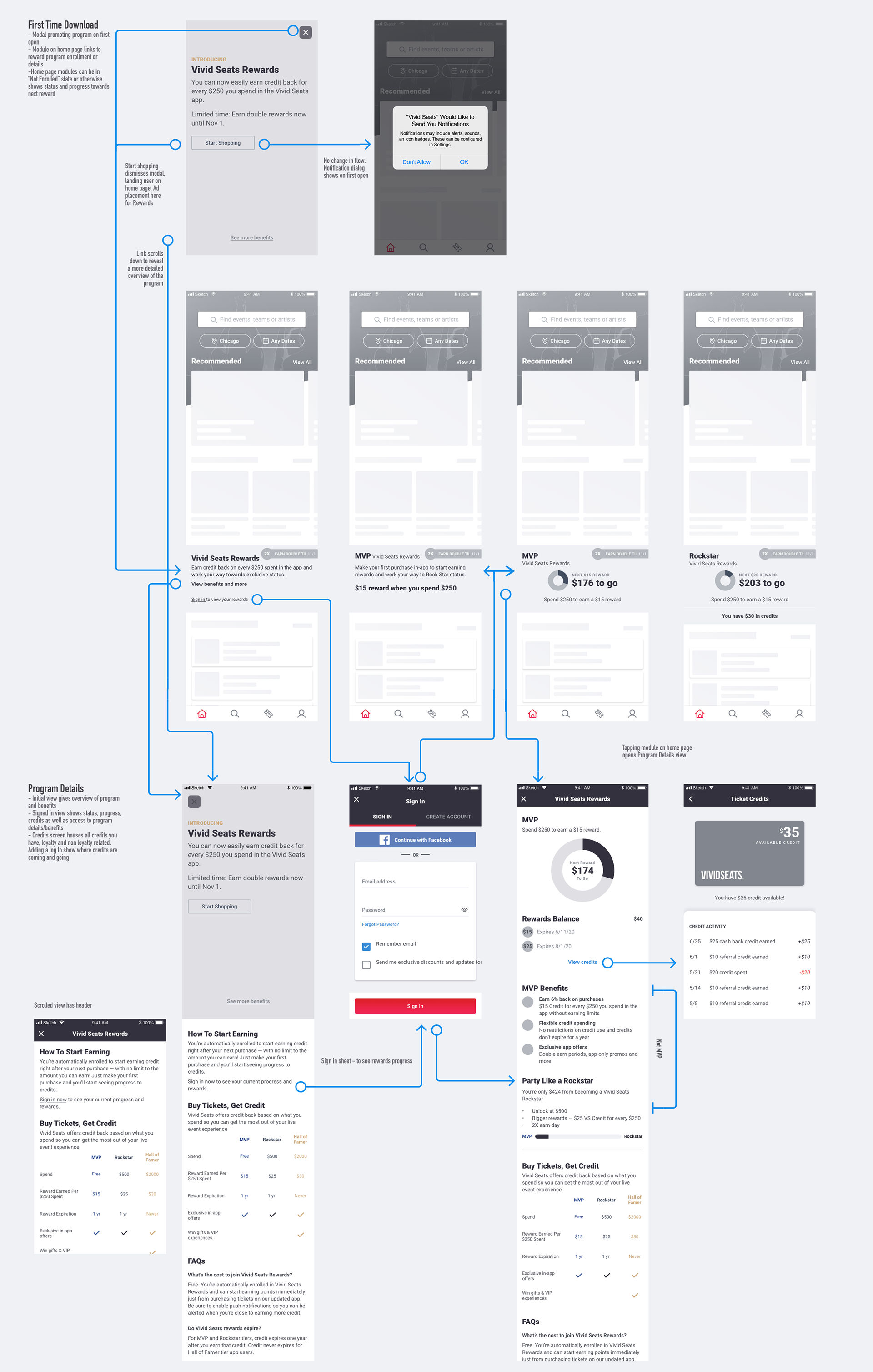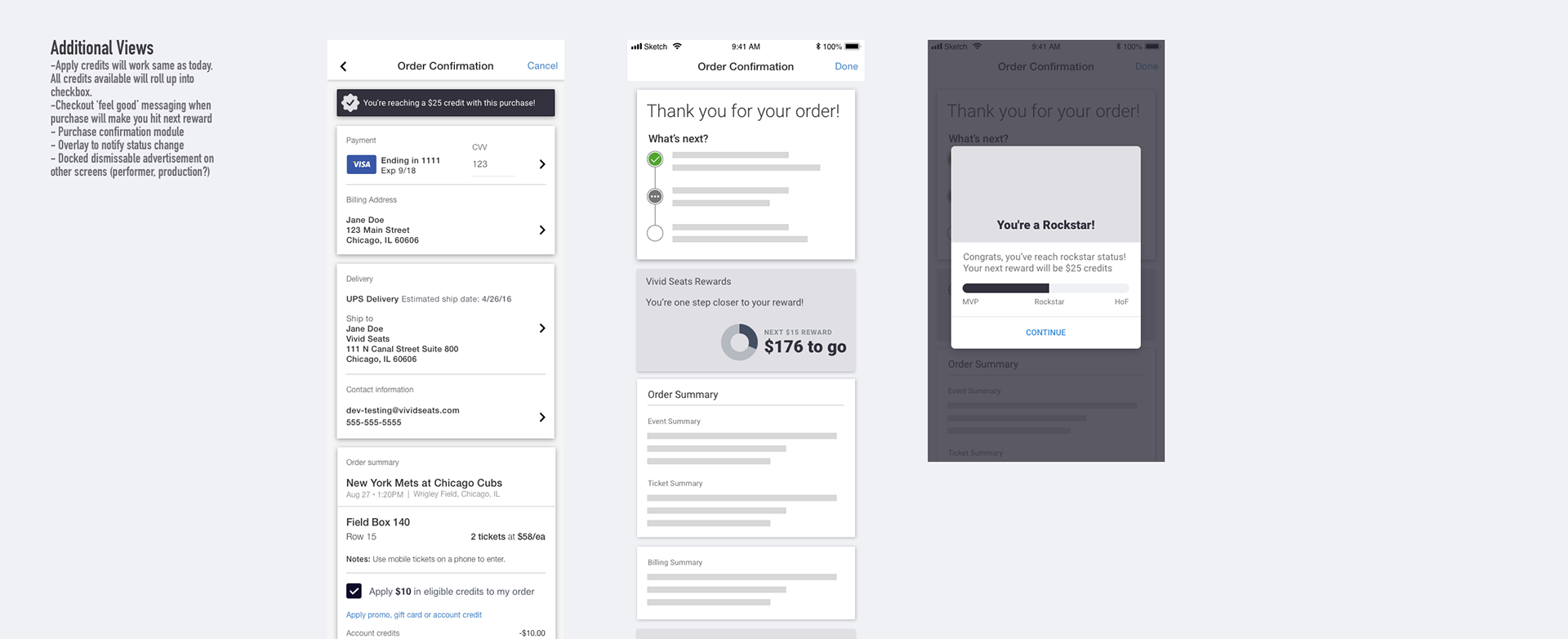 Additionally, we mapped out flows to inform the marketing side of the program. These included emails sent around the program and all the touchpoints that would advertise the program and flow into the app.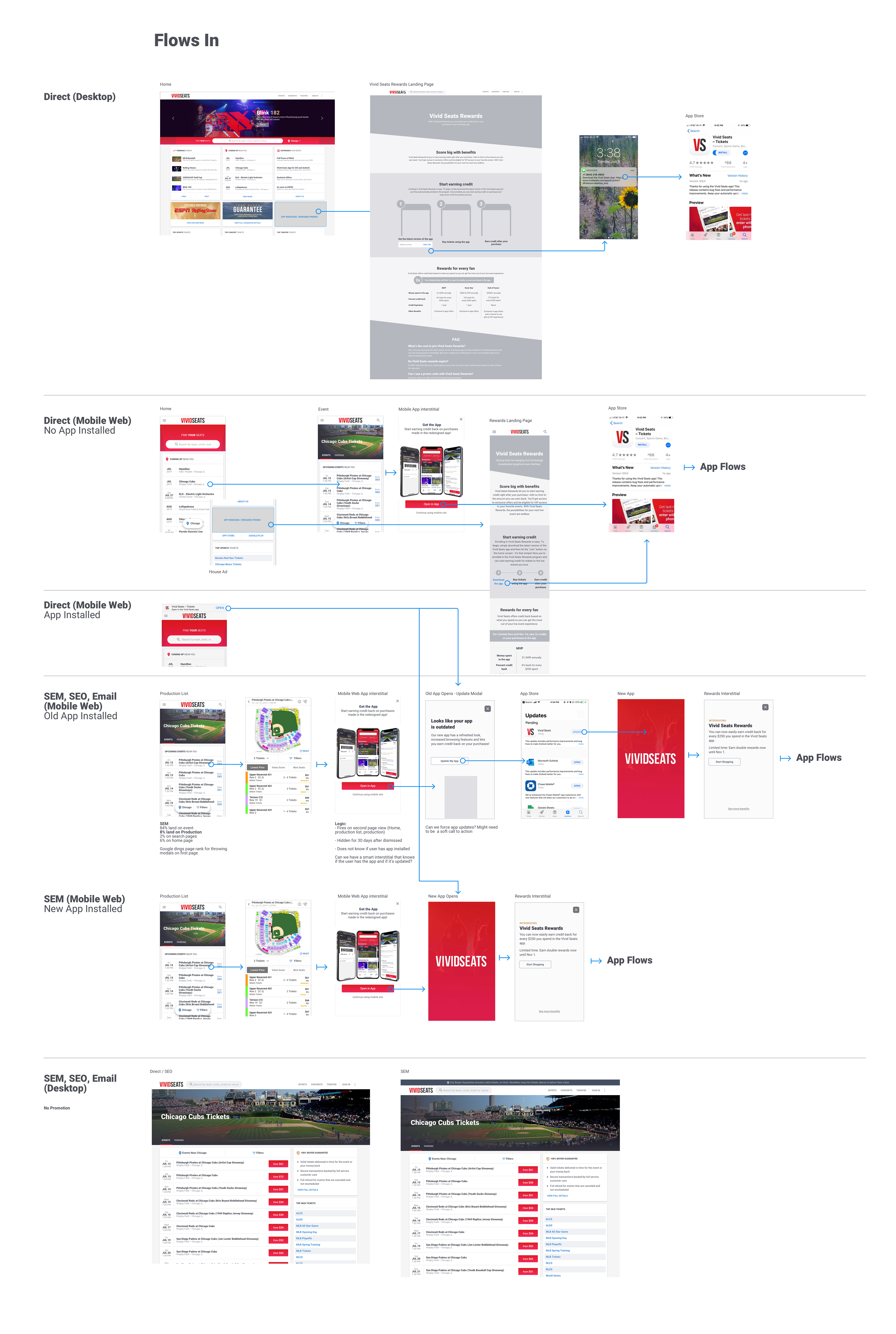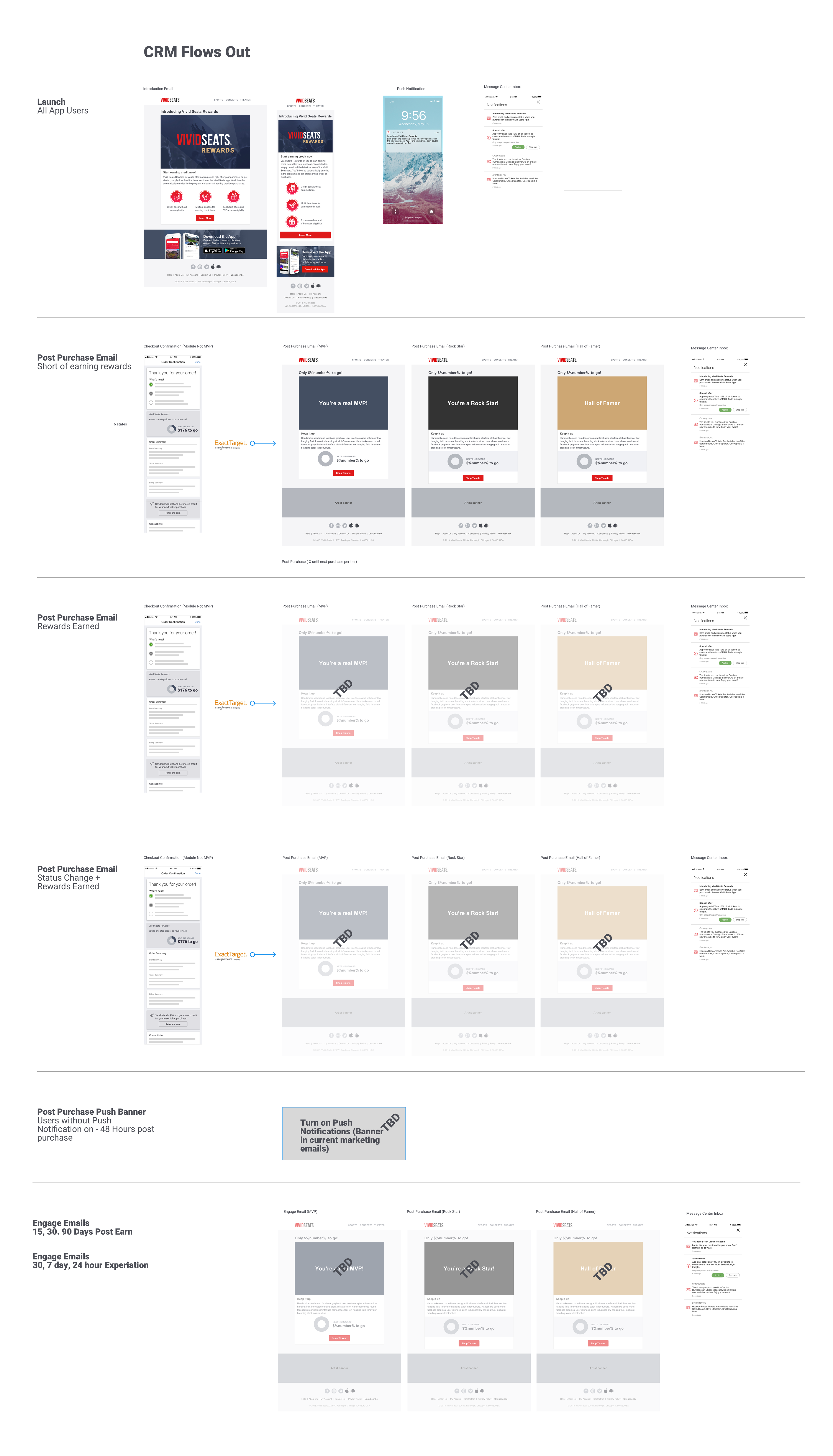 Went through several iterations of visual design to land on a look and feel for this program. I looked at module placement, visual variations, and layout variations. This also included deciding to brand tiers in the program by colors and choosing those colors to represent.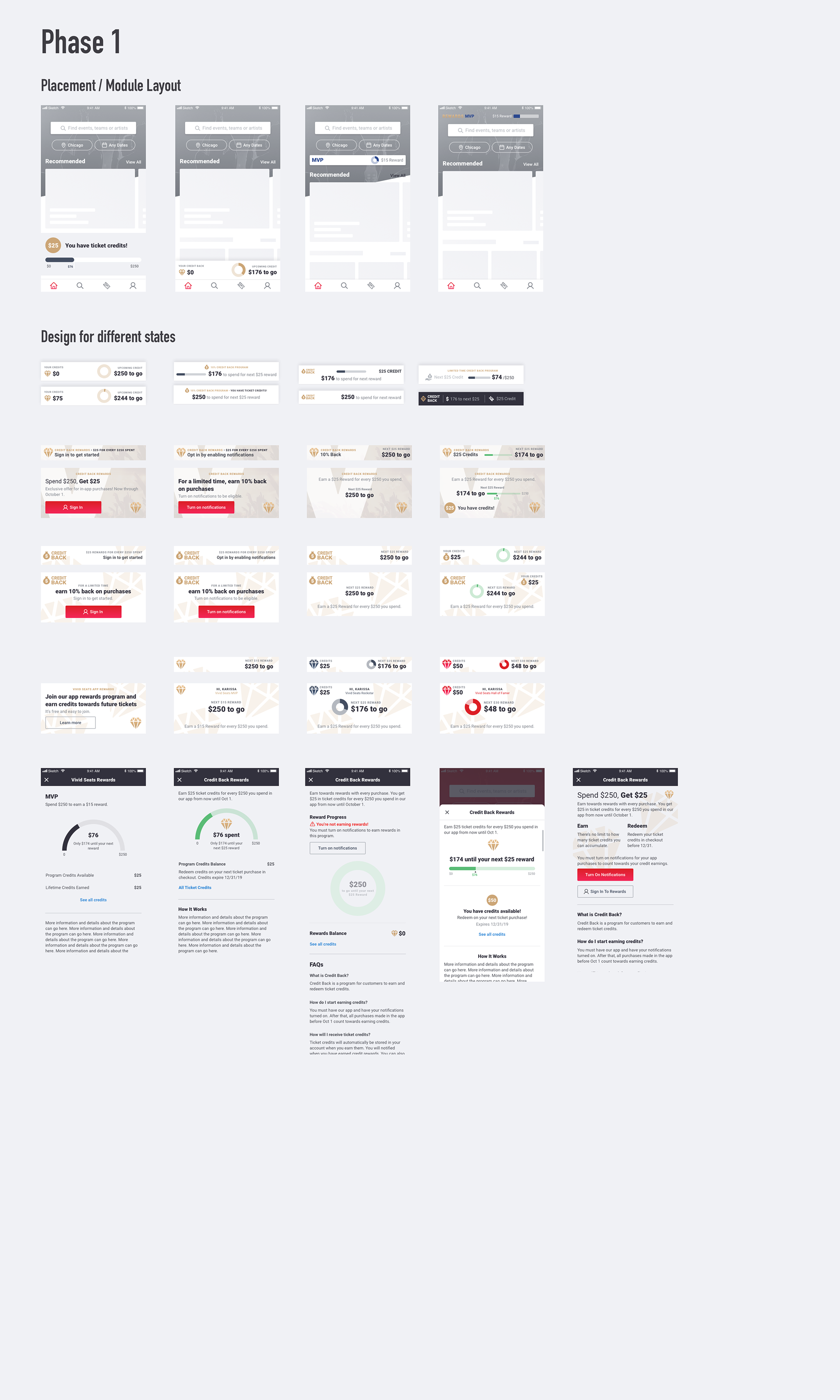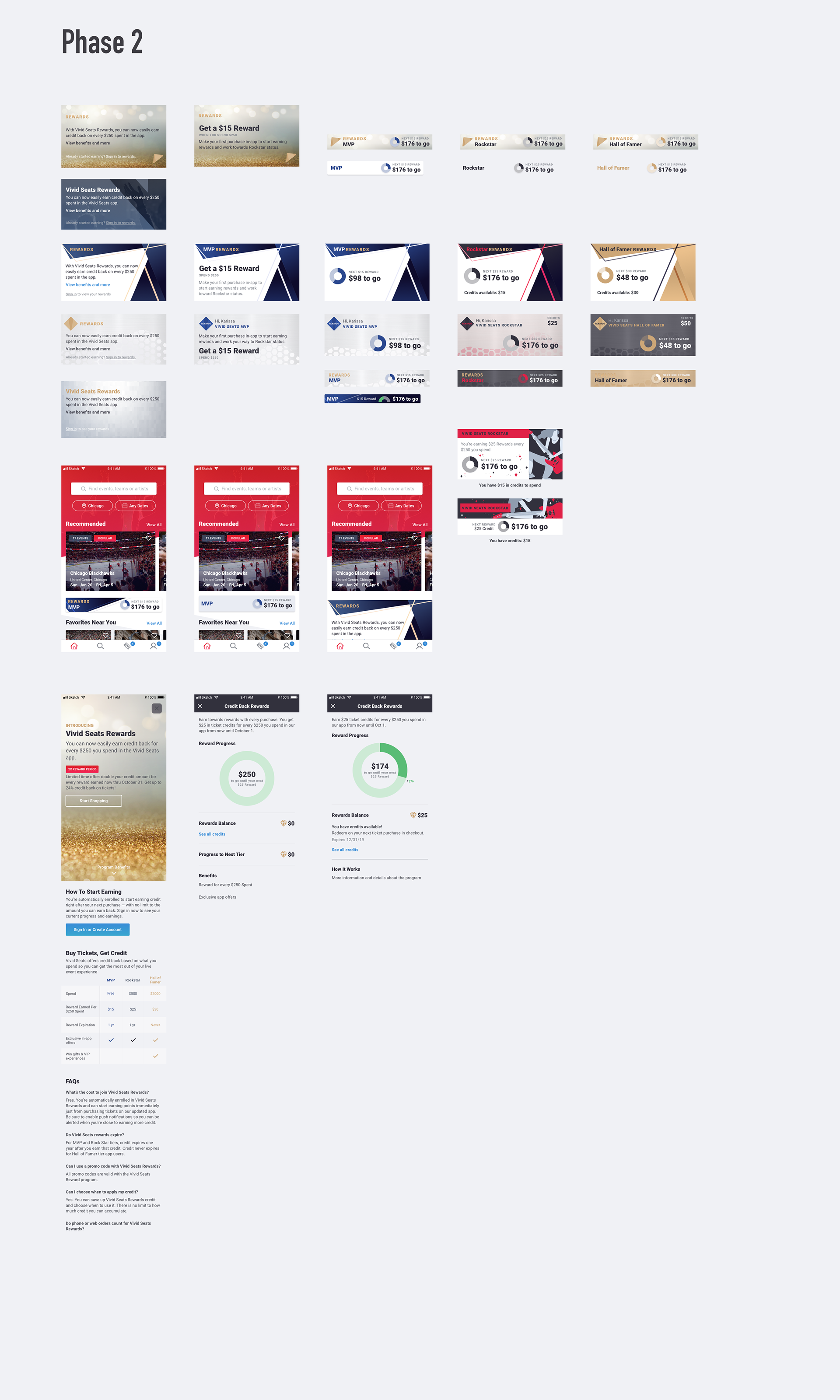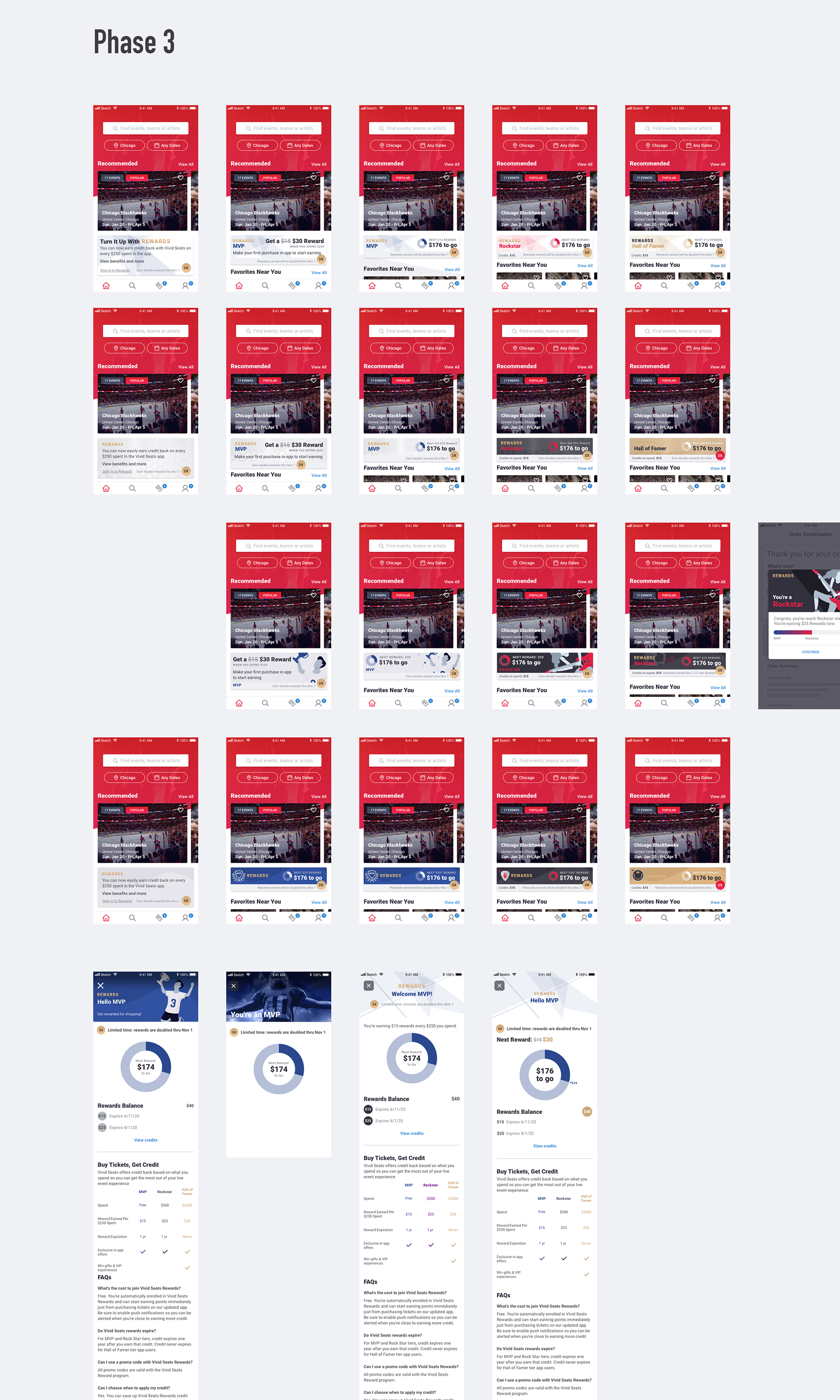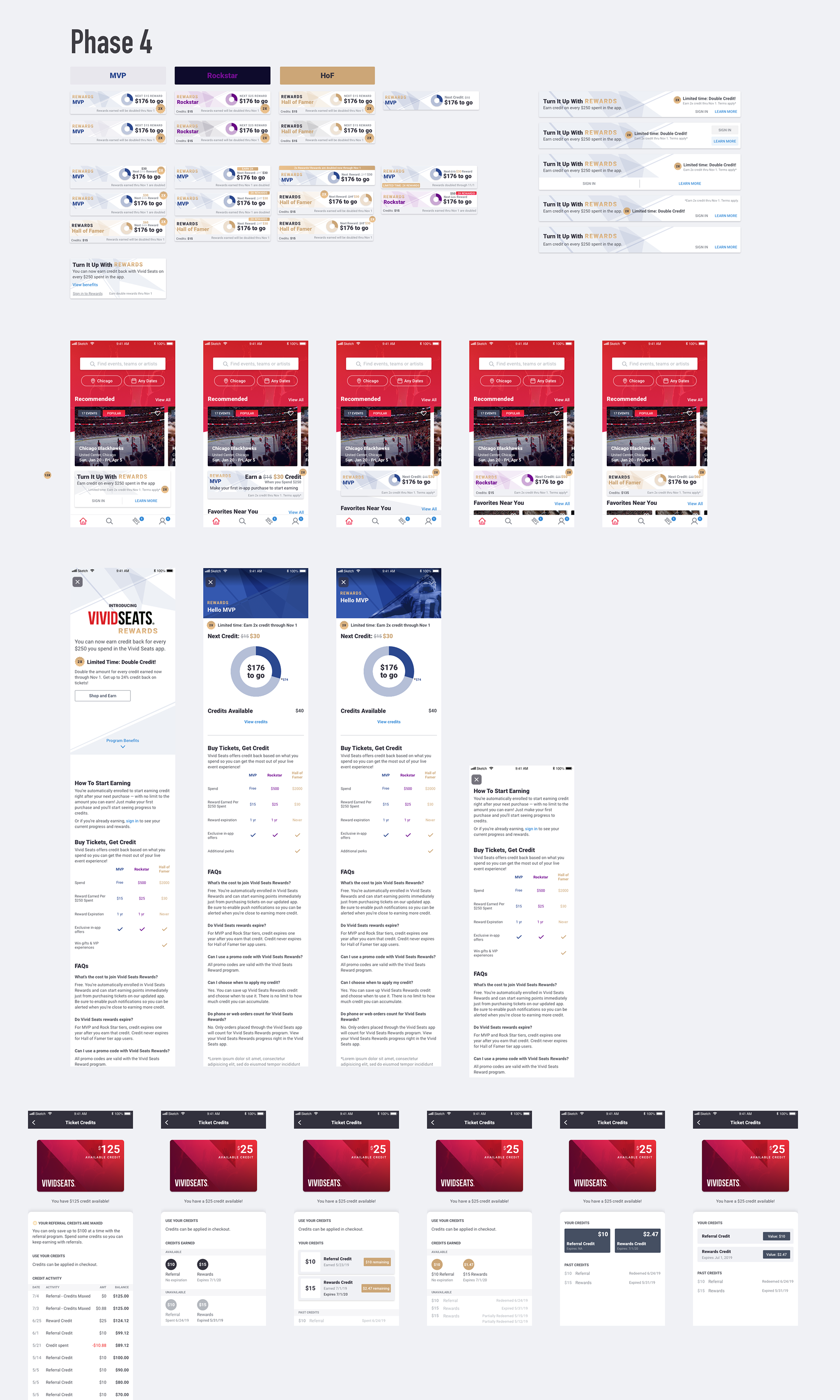 Once the visual feel was finalized, we came up with an MVP approach - scaling back placements and extra engineering features to create a viable product that could be productionalized in a short period of time. These screens were created in Sketch app / animations in Principle. After an approval process with stakeholders, product and design, these comps were handed off to developers using Zeplin and JIRA.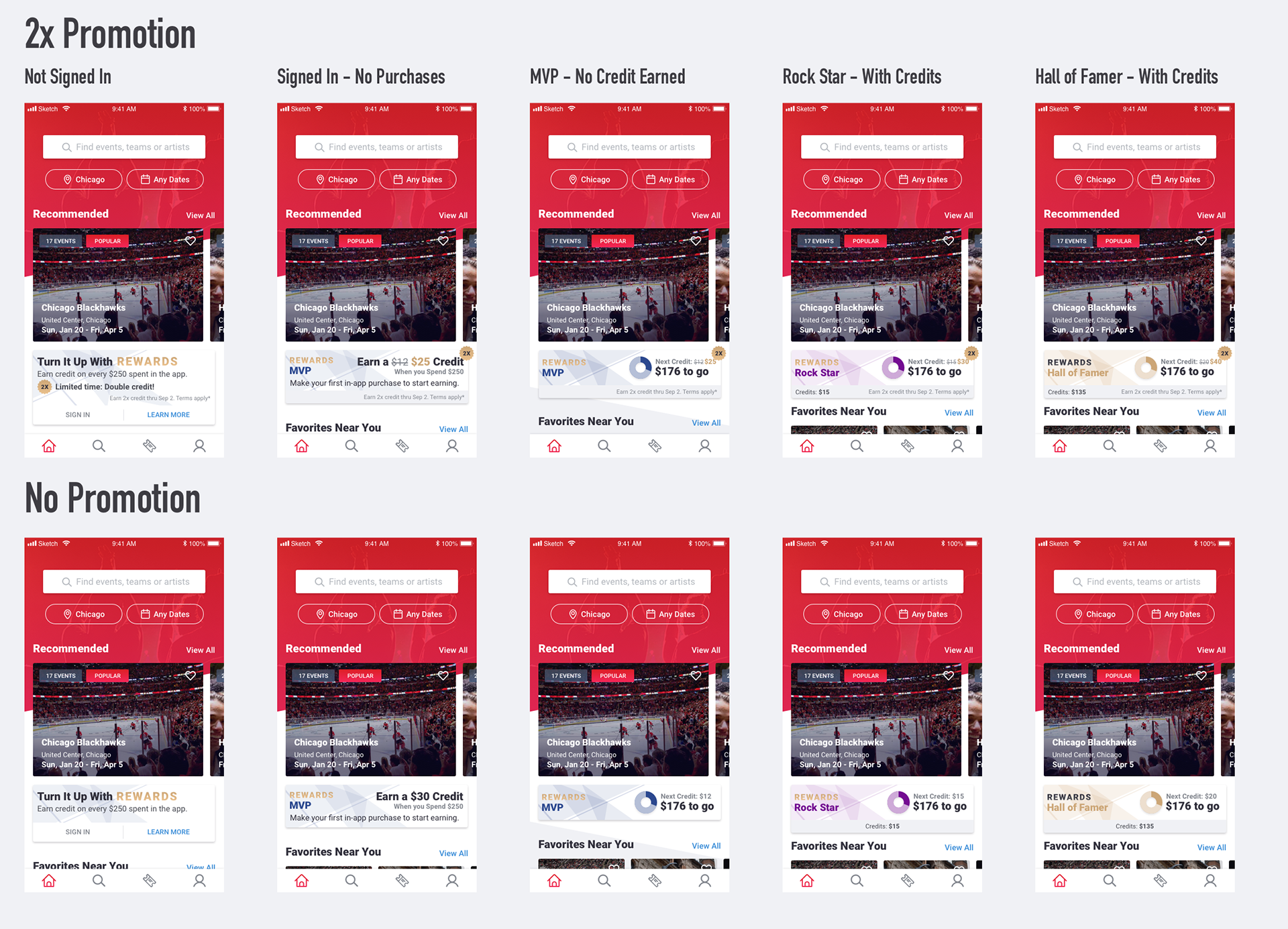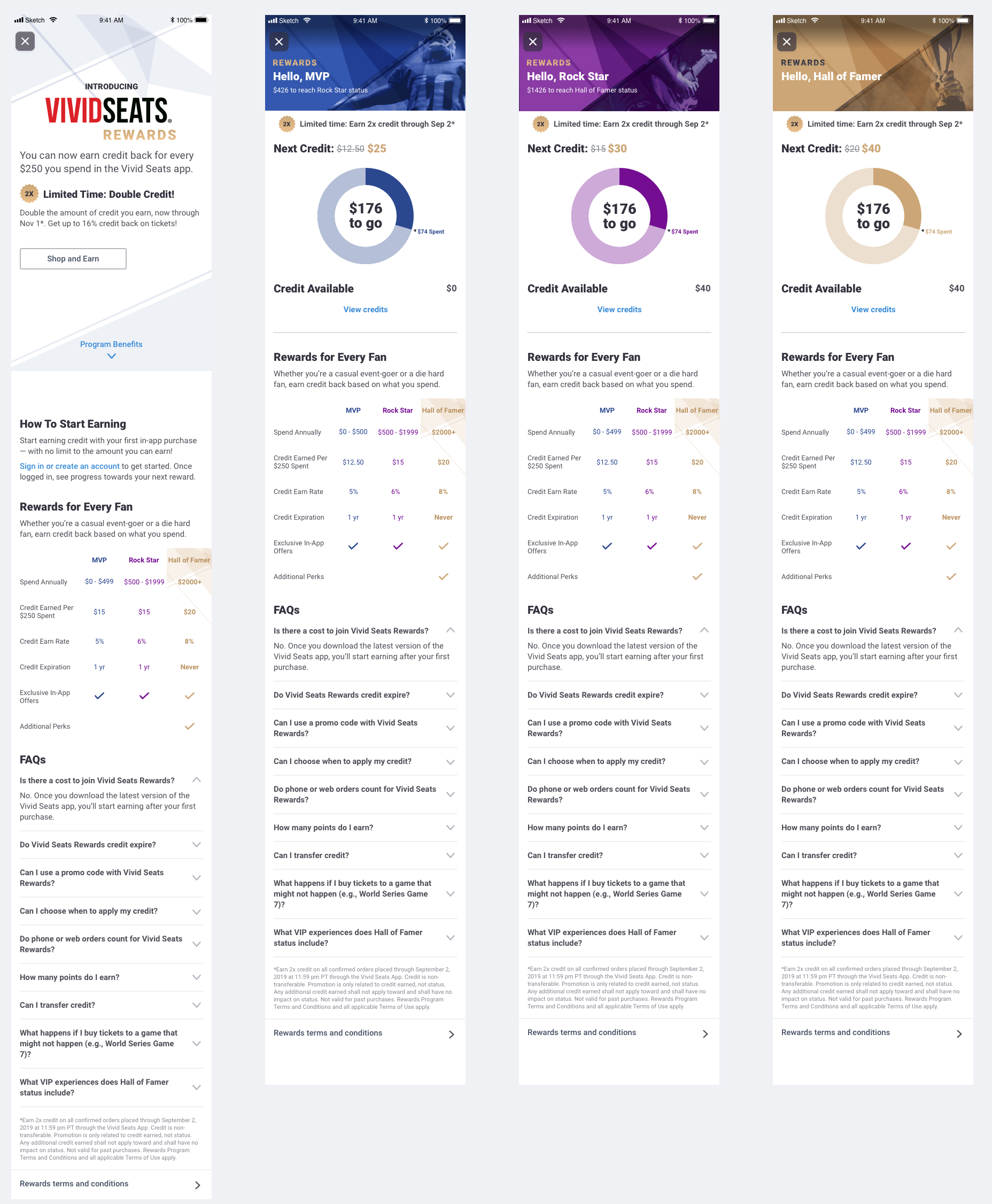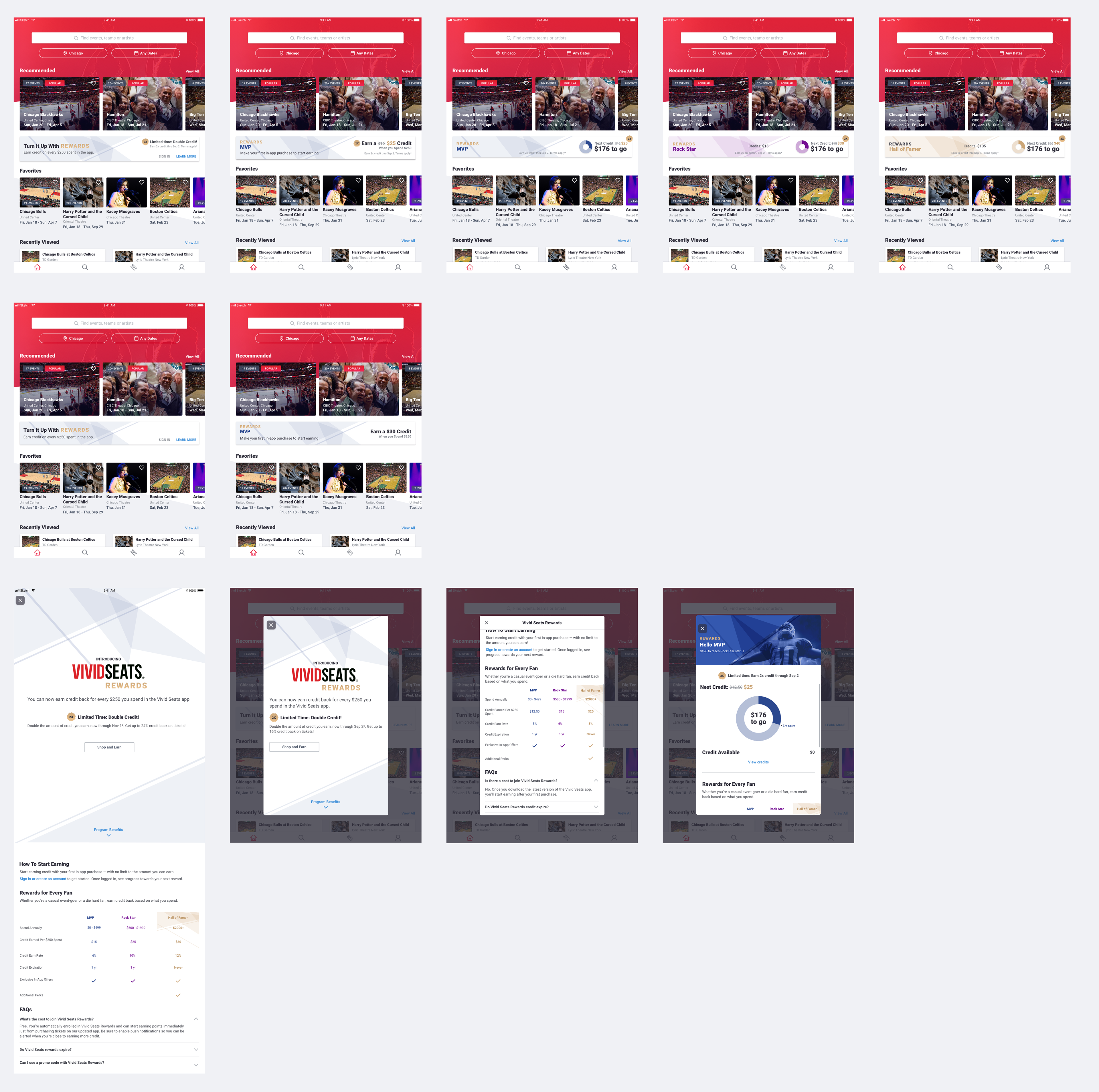 User Testing and Feedback
Given the quick deadlines for this project, we didn't have time to run a prototype through user testing before development. However, after MVP was released, we collected feedback through surveys and qualitative feedback about the program through user testing where we could identify pain points to the program, understanding the program and the UI.